"The thing is, I was born brilliant. Born bad. And a little bit mad. I'm Cruella."
Aside from the fantastic storyline and performances of new live-action feature film Cruella, you can't take your eyes off the titular character – not when she wears fierce makeup and hair and decked up in most notoriously fashionable outfits. Emma Stone fully embraces Cruella's signature two toned coiffure – and we're living for it!
This is all thanks to two-time Academy Award winner for Costume Design, Jenny Beaven, who crafted 47 looks for the film set in 1970s London amidst the punk rock revolution. Beaven explained that Cruella's main colours are black, white, grey and red.
To complete the look, hair and makeup artist Nadia Stacey was quoted in The Wrap:
"From a practical sense, it was actually pretty hard because to get wigs made, black and white wigs made, the white hair is really hard to come by."
"It's really hard to get, so I only actually had two black and white wigs for her, and then I kept kind of changing and swapping them out with all the different styles, and adding things to them, and changing them. Yeah, like a do-it-yourself kit, Cruella hair."
In the end, it's undeniable that Beaven and Stacey succeeded in bringing Disney's most fashionable villainess to life.
As Stone mentioned: "Once you put this wild, black and white hair and this incredible makeup and these unique costumes on, you feel like Cruella De Vil."
These are the five most iconic looks from the must-see movie:
1. The Future
The rebellious side of Cruella began to unveil with the statement graffiti makeup. It's a messed up and funky side of her, but we can't deny that the whole look is about making a statement. Stacey said that the font used is the same as the one used for Sex Pistols album, tied to the punk theme.
Watch @trinsmakeup 'The Future' makeup transformation on TikTok below:
2. The Dalmation Coat
We can't call it a Cruella film without the Dalmatians. But don't worry, no Dalmatian was harmed in the making of the film. To embrace her complete transformation from Estella to Cruella, she donned a faux-Dalmatian cape at a punk rock fashion show across her nemesis the Baroness.
3. The Dumpster Dress
Imagine walking in a 40-foot long train dress! I was in awe when I watched this scene, and it was truly one of the most jaw-dropping moments.
Watch @trinsmakeup 'The Dumpster Dress' makeup transformation on TikTok below:
4. The Cruella Car Dress
When you're photobombing, you might want to seek advice from Cruella De Vil itself. She takes the spotlight away from Baroness when Cruella wears the oversize train dress that practically covers her car.
In a Variety interview, Beaven said the time-consuming piece was crafted at Shepperton Studios in Britain, where most costumes were built. "I think at one point, I saw 12 people sitting around the table – students and trainees – hand-stitching petals."
5. The Flame Red Dress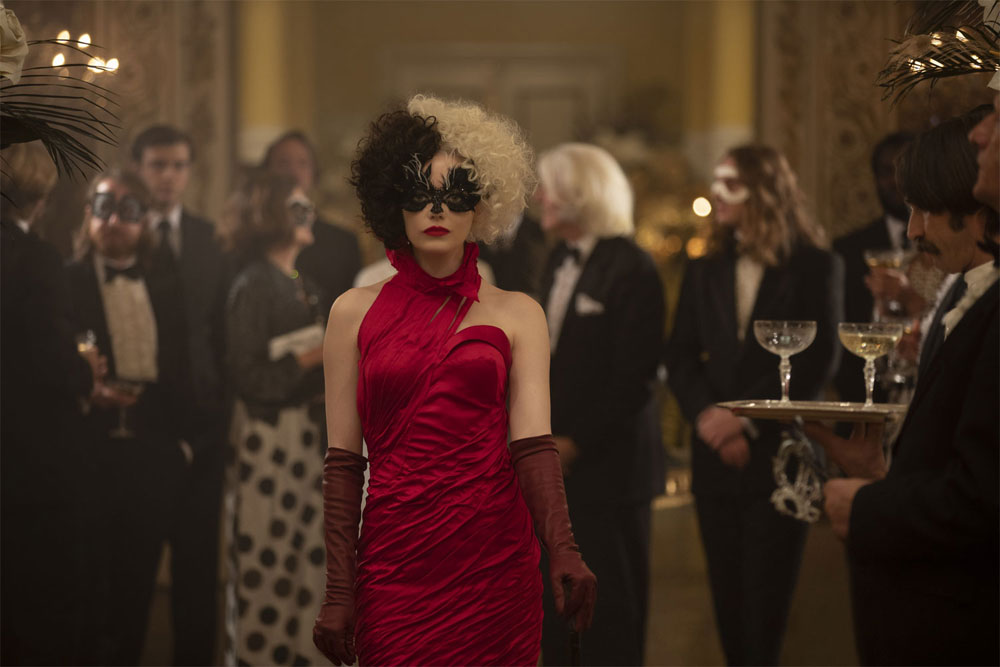 Cruella reconstructs Baroness' vintage pieces to fit her punk approach, and she got everybody's attention at the ball. Inspired by Charles James' 'Tree' dress, this is the piece de resistance of the movie.
Watch @makeupbyiremuyur 'The Future' makeup transformation on TikTok below:
Cruella is available on Disney+ Hotstar Malaysia.