Are you suffering from dark circles under your eyes and tired of applying thick concealer every.single.time to avoid looking like a panda?
Don't worry, and you are not alone! A lot of Asian women suffer from dark circles. In fact, 24% of Malaysian women that have done the myeppo skin quiz say that dark circles are a problem for them. Besides lack of sleep, dark circles under the eyes are also caused by ageing, excessive alcohol intake, eye strain, and genetics.
Nobody likes having panda eyes for sure. Those dark circles under the eyes make you appear tired and not fresh. Many serum and skincare products are out there targeted to reduce dark circles, but do they work?
In this post, we will explore The Ordinary Caffeine Solution and how it can help minimize the appearance of dark circles.
What Is In The Ordinary Caffeine Solution?
The Ordinary Caffeine Solution contains two key ingredients: caffeine and EGCG (Epigallocatechin Gallate). These two hero ingredients help to reduce dark circles and eye puffiness.
The 5% caffeine solution in the serum helps to combat dark circles by increasing blood microcirculation, reducing discolouration, and dissolving fat under the skin near the eyes. Similar to how drinking caffeine makes us more awake, putting caffeine topically on the skin makes them appear fresher, too!
As for ECGC, it is made from green tea leaves. It helps to minimize the appearance of dark circles with its anti-ageing and antioxidant properties.
The Ordinary combines these two ingredients to produce a highly concentrated, super light serum that makes your eyes appear fresher by minimizing dark circles.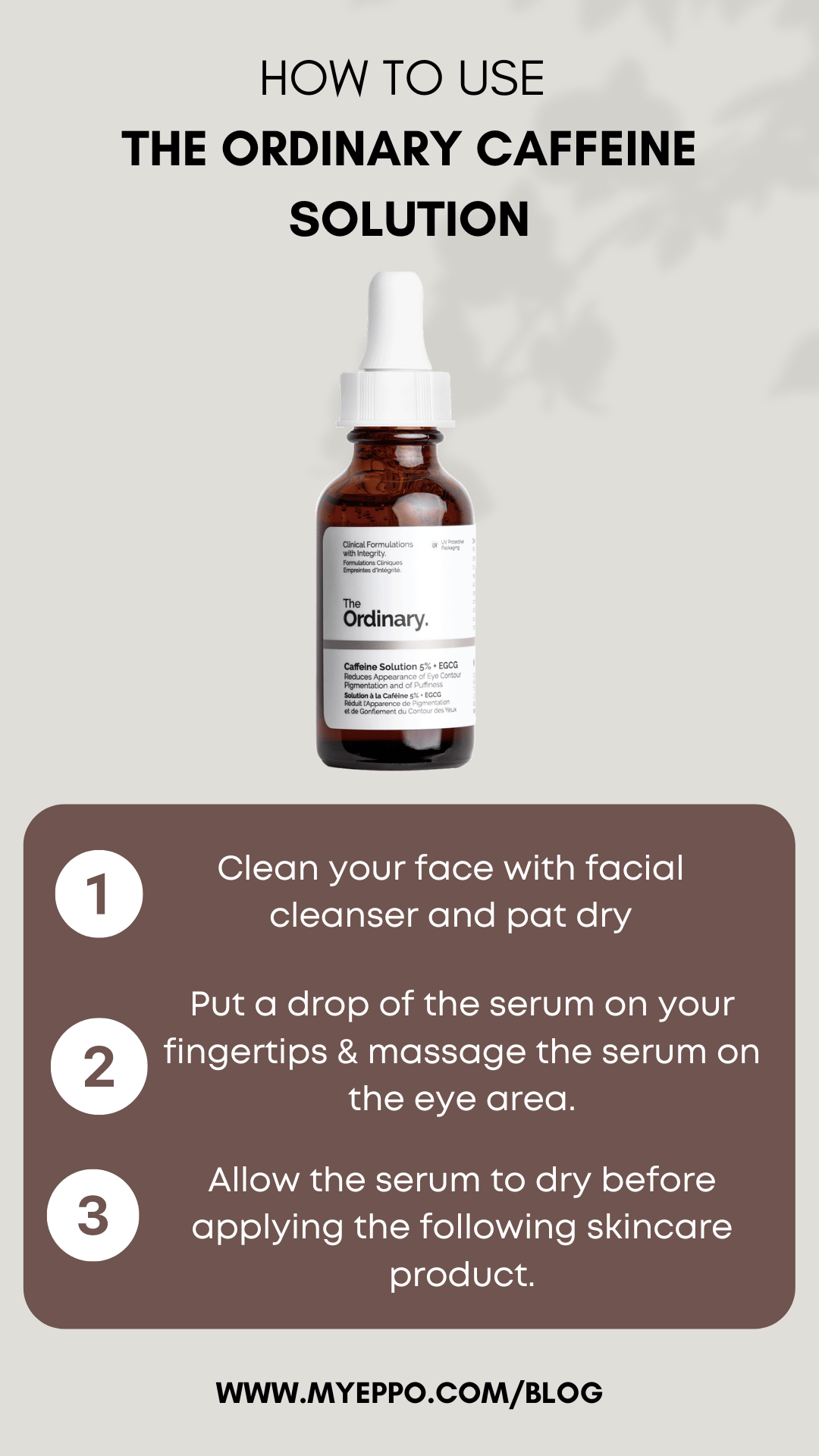 When and How To Use The Ordinary Caffeine Solution?
You can use The Ordinary caffeine serum twice daily. The liquid has a very light tint, and the consistency is almost like water. This means that the serum is easily spread when applying it and will disappear quickly.
Clean your face with facial cleanser and pat dry
Put a drop of The Ordinary caffeine solution serum on your fingertips and massage the serum on your eye contour.
Allow the serum to dry before applying the following skincare product. The Ordinary caffeine solution dries quickly, so you don't have to wait too long!
You can use the serum once or twice daily during your morning and evening skincare routine.
The Caffeine Solution Review
I have pretty serious dark circles under my eyes, and it seemed to worsen after I had a baby (less sleep) and started working from home (more screen time, unfortunately).
Most people say there are no solutions to dark circles, so I was sceptical about trying The Ordinary caffeine solution serum. But, I'm also quite open to trying things if it means I can spend less time covering my unsightly dark circles with concealer!
Compared to other dark circles targetted skincare products, The Ordinary Caffeine serum is affordable, which made me excited to try it. I love how the serum is easy to use and dries fast too! It has a comfortable texture and doesn't feel sticky under the eyes.
After using The Ordinary Caffeine solution for a few weeks, I could see improvements in the appearance of my dark circles. It's not a massive change, but my dark circles definitely appeared lighter and there were days I even decided to forgo the concealer. Unfortunately, the result is not long-lasting. When I stopped using the serum, the dark circles appeared again.
Also, be mindful that the ingredients in The Ordinary Caffeine serum do not help with skin dryness. I suffer from dry skin as well. Thus I needed an additional hydrating eye cream on top of the serum to help the dry skin under my eyes.
Related: Dry Vs Dehydrated Skin…What Are The Differences?
Conclusion
I think The Ordinary Caffeine serum is an excellent option if you'd like to try minimizing dark circles without spending too much money. It is practical and affordable at its price. Also, a bottle can last you a long time because you only need a drop or two for both eyes!
Shop The Ordinary Caffeine Serum